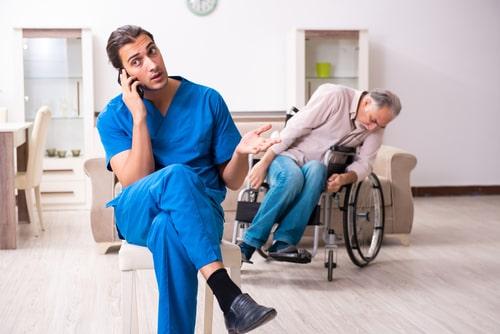 In the United States, it is not uncommon for families to move their older family members to nursing home facilities to help provide care. According to the latest data available from the Centers for Disease Control and Prevention (CDC), there were an estimated 15,600 nursing homes operating in the U.S. It takes a lot of trust to put a family member in a nursing home, which is why it can be heartbreaking if your family member becomes injured under their care. According to the Agency for Healthcare Research and Quality, about half of all nursing home residents fall each year, with two-thirds of those residents falling two or more times throughout the year. Older adults have a higher chance of suffering serious injuries from slips or falls, especially those adults in nursing homes. If you or a loved one has suffered an injury from a fall in a nursing home, you may be able to file a personal injury claim to recover costs associated with the injury.
Proving Fault for a Nursing Home Slip and Fall Injury
The majority of personal injury cases use the theory of negligence to prove a person at fault for another person's injuries. In most cases, neither party is 100 percent at fault for the accident. As long as the person claiming damages is not more than 50 percent at fault for the incident, they can still pursue a personal injury claim. In some nursing home slip and fall incidents, it may not be completely the fault of the nursing home facility if a resident falls.
In many nursing home slip and fall cases, however, there are certain factors controlled by the facility that could potentially cause a slip or fall. To legally prove that the nursing home is at fault and was negligent, you must be able to prove that:
...