Park Ridge, IL Motorcycle Accident Attorney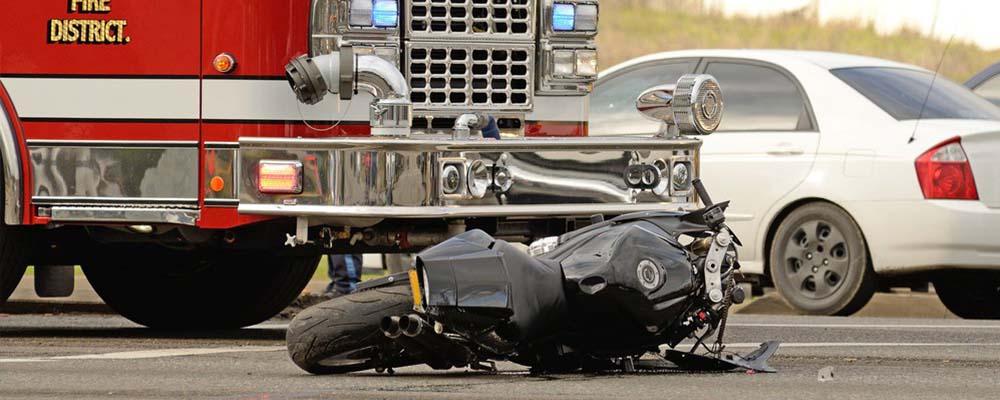 Injury Lawyer For Maximum Compensation After A Motorcycle Crash in Rosemont, Niles and the O'Hare Area
An auto accident can be dangerous to everyone involved, but motorcycle drivers and passengers are particularly vulnerable in crashes, even when they are wearing the proper safety equipment. Even though only three percent of all registered vehicles in the United States are motorcycles, motorcyclists make up 13% of fatalities in traffic accidents.
At Quinn Law Group, we understand the pain and suffering that can result from motorcycle injuries, and we know the importance of being able to receive quality, timely medical care and compensation for loss of income and other damages.
Motorcycle Accident Injuries
Without the structural protection and safety features such as seat belts and airbags that are provided by passenger vehicles, motorcycle riders are much more likely to be injured in accidents. Even minor collisions can result in serious injuries, including:
Traumatic brain injuries, especially for people who are not wearing a helmet
Neck and spine injuries that can result in temporary or permanent paralysis
Severed limbs or injuries requiring amputation
Cuts, lacerations, and abrasions ("road rash") that can result in scarring or disfigurement
Broken bones
Bruises, contusions, and internal injuries
Injuries from a motorcycle accident can affect your health and well-being for years to come. If you have been injured in a motorcycle crash, you should speak with an accident injury attorney as soon as possible to begin the process of recovering compensation for damages you have suffered.
Liability in Motorcycle Accidents
When a motorcycle accident is caused by someone else's negligence, that party may be held liable for damages that you suffer. Negligence can take a variety of forms, including:
Speeding or reckless driving
Improper lane changes, illegal turns, failure to yield, or failure to signal
Distracted driving, including using a cell phone or texting while driving
Improper road maintenance
Improperly secured loads
Unsafe or faulty vehicle parts
When you are seeking compensation for motorcycle injuries, it is essential to be able to establish liability by demonstrating negligence. An experienced auto accident attorney can thoroughly investigate your situation and determine how best to proceed with your claim.
A Compassionate Personal Injury Attorney On Your Side
Attorney Patrick Quinn understands the catastrophic impact that a motorcycle crash can have on your life and how it can affect both your health and well-being and your family's financial stability. Pat will work personally with you to gather the facts in your case and make sure you understand your rights and options throughout the legal process, and he will fight tirelessly to help you receive the financial compensation you deserve.
Contact a Park Ridge motorcycle accident lawyer today at 847-232-7180. We provide legal help to clients in Rosemont, Niles, Glenview, Schiller Park, Jefferson Park and throughout the Chicago area.