Park Ridge, IL Rear-End Car Accident Attorney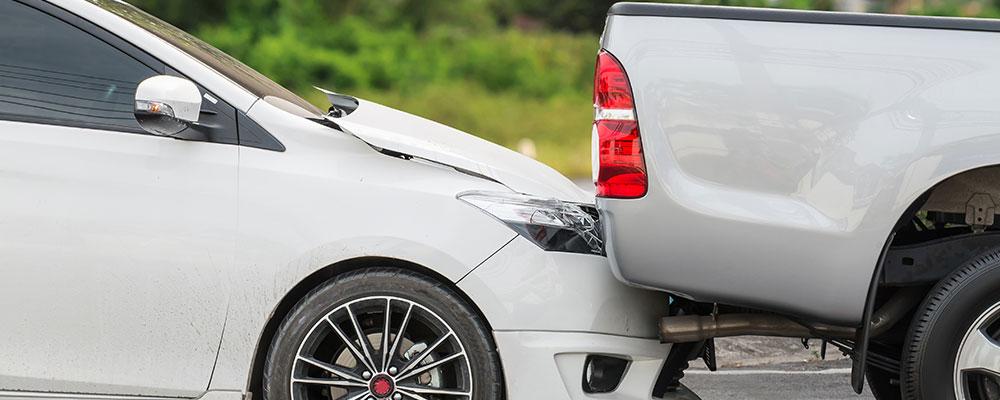 Lawyer for Injuries in Rear-End Impact Crashes in Des Plaines, Niles, Morton Grove and Throughout Cook County
Motor vehicle collisions can occur in a wide variety of situations, and they can cause significant injuries and other types of damages. While the most serious car accident injuries often occur in side-impact or head-on collisions, rear-end collisions can also be very dangerous. If you have been involved in this type of accident, you should speak to a knowledgeable personal injury lawyer who can help you understand how you can receive compensation for your injuries and property damage.
Quinn Law Group provides dedicated legal representation for those who have been injured in car accidents, and we will work closely with you to determine the full extent of your damages and help you pursue financial compensation. Attorney Patrick Quinn formerly worked as a legal representative for insurance companies, and he understands the legal issues involved in injury cases, the methods these companies often use to minimize a claim, and the best strategies for successfully recovering the full and fair compensation you deserve.
Rear-End Collisions in Rosemont, Glenview, and Cook County
The highways, streets, and intersections in Park Ridge and the surrounding areas can be very busy, and rear-end accidents can occur due to heavy traffic, distracted driving, drunk driving, or other forms of driver negligence. Congestion on freeways such as I-294, I-90, I-94, or I-190 can result in rear-end impact crashes if drivers do not slow down in time, and in some cases, these collisions may even lead to multi-car pileups. Drivers who are not fully paying attention when navigating busy interchanges on roads such as Dempster St., Touhy Ave., Cumberland Ave., or Golf Rd. may collide with other vehicles. Rear-end collisions can also occur on the busy streets and intersections throughout the area, including Harlem Ave., Northwest Highway, Mannheim Rd., Higgins Ave., or Milwaukee Ave.
Injuries in Rear-End Accidents
Whether rear-end collisions involve a major impact or take place at a relatively low speed, they can result in a wide variety of injuries to a vehicle's driver or passengers. These may include:
Whiplash and neck injuries - The sudden, jolting impact of a collision can cause a person's head and neck to move back and forth quickly, which can cause strain to the muscles, tendons, and ligaments in the neck, as well as damage to the vertebrae and spinal cord. This can lead to long-lasting soreness and stiffness, decreased range of motion, tingling or loss of sensation in the shoulders and arms, and chronic pain in the neck, back, and shoulders.
Head and brain injuries - Even if a vehicle's airbags deploy, a vehicle's occupants can suffer a blow to the head, which can cause concussions and traumatic brain injuries. These injuries can result in loss of consciousness, fatigue, dizziness, sensitivity to light and sound, mood disorders, and impairment to cognitive functions.
Spinal cord injuries - A collision can cause fractures in the vertebrae of the spine, slipped or herniated discs, or damage to the spinal cord. In serious cases, this can lead to paralysis, but even minor spinal injuries can cause tingling or loss of sensation throughout the body and severe, chronic pain.
Broken bones - A driver's arms or wrists may be broken if they were holding the steering wheel when a collision occurred. Drivers or passengers may also suffer broken ribs, legs, or other bones due to a rear-end impact.
Soft tissue injuries - A collision can result in a variety of injuries to the muscles, tendons, and ligaments throughout the body. These may include sprained or dislocated joints, torn muscles or ligaments, or other forms of soft tissue strain.
Contact a Rosemont Rear-End Collision Lawyer
If you have been involved in a rear-end impact crash that was caused by another driver, you should be sure to understand your options for recovering compensation. Your damages may include the costs of medical treatment, loss of past or future income, pain and suffering, and damage to your vehicle. At Quinn Law Group, we can provide the legal help you need to ensure you are fully compensated. Contact our office at 847-232-7180 to schedule your free consultation. We assist with car accident cases throughout Cook County, including Niles, Park Ridge, Chicago, Rosemont, Skokie, Norwood Park, Des Plaines, Morton Grove, O'Hare, and Glenview.