Park Ridge Distracted Driving Accident Lawyer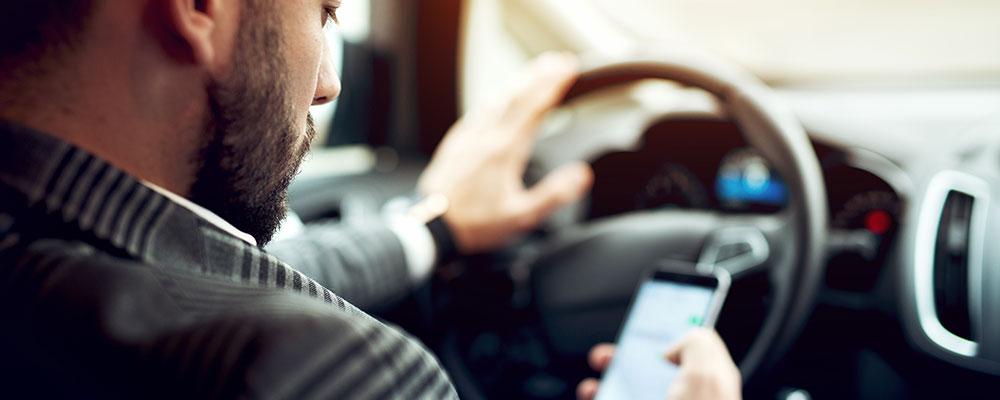 Personal Injury Attorney for Crashes Caused by Texting While Driving in Rosemont, Des Plaines, Glenview and Throughout Cook County, IL
Distracted driving is one of the most significant threats to safety on the roads in Illinois and throughout the United States. Whether distractions come from talking on cell phones, texting while driving, or anything else that takes a driver's eyes and attention off the road, this form of driver negligence can lead to dangerous car accidents. If you or a member of your family have been injured in a car accident that occurred because of distracted driving, you will want to work with an experienced personal injury attorney to determine how you can receive the financial compensation you need and deserve.
At Quinn Law Group, we understand the physical, emotional, and financial harm that a family can experience following a motor vehicle accident. In addition to dealing with costly medical bills, you may lose income due to an inability to work while recovering, or an accident may even lead to a permanent disability that affects your future income-earning capacity while requiring ongoing therapy, assistive devices, and other expenses. Attorney Patrick Quinn will provide you with dedicated legal representation when pursuing compensation for these damages, and he will fight to ensure that a distracted driver is held responsible for the harm you and your family have suffered.
Distracted Driving Accidents in Cook County and the O'Hare Area
When driving, distractions can come in a wide variety of forms. Many of these involve smartphones, and using these devices to read or send text messages, use social media apps, or watch videos can be incredibly dangerous. Even those who use hands-free devices to make phone calls while driving can be distracted while making or receiving a call or because they are focusing on their conversation rather than on the road and the vehicles around them.
Even if drivers avoid using cell phones altogether while behind the wheel, there are many other distractions that can lead to car accidents. These can include adjusting a vehicle's radio or environmental controls, looking up directions on a navigation system, eating and drinking, grooming or putting on makeup, attending to children in the vehicle, or conversing with other passengers. Even a moment's distraction can cause a driver to not notice the actions of other vehicles, or it may cause them to stray out of their lane and collide with another car or truck. In many cases, a driver who takes their eyes off the road is unable to slow down or stop in time to avoid a rear-end collision.
Due to the high levels of traffic on the street and highways of Park Ridge and the surrounding areas, distracted driving accidents are unfortunately all too common. Drivers on I-294 or I-90 who regularly commute to Chicago or other cities in the area may not fully pay attention to the road, or those who are traveling to O'Hare Airport on I-190 may become distracted by travel details or pickup and dropoff arrangements. Distractions can also lead to serious accidents when people fail to negotiate intersections correctly on heavily-used roads such as Touhy Ave., Dempster St., Mannheim Rd., Milwaukee Ave., Harlem Ave., Higgins Rd., or Cumberland Ave.
Contact Our Niles Car Accident Attorney
If you have been injured in a collision caused by a distracted driver, Quinn Law Group can provide you with the legal help you need. We will investigate the circumstances surrounding your accident and gather evidence to demonstrate that distracted driving was the cause of your injuries and damages. With multiple years of experience representing insurance companies in personal injury cases, Attorney Quinn understands the tactics these companies often use to minimize a claim. He can ensure that your needs are fully addressed, and he will work to help you receive the compensation you deserve. Contact us today at 847-232-7180 for a free consultation. We represent clients in Park Ridge, Rosemont, Des Plaines, O'Hare, Morton Grove, Niles, Glenview, Norwood Park, Chicago, and throughout Cook County.