Special Considerations All Winter Motorcyclists Should Take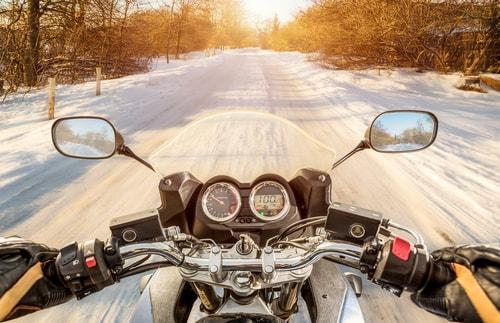 As the snow begins to fall, everyone scrambles to get their snow tires on their vehicles, change their windshield wiper blades and dig out their snow brush -- but those steps typically only pertain to the four-wheeled variety of vehicle owners. Those who own motorcycles have a set of concerns that are specific to their vehicle and riding it in cold, snowy weather. According to the United States Department of Transportation, there are approximately 8,410,255 motorcycles registered for private ownership in the country and over 300,000 of those motorcycles are registered in Illinois alone. Riders who are inexperienced or unprepared for cold-weather driving can find themselves in serious motorcycle accidents if they are not careful. If you are planning to ride your motorcycle this winter, here are three things you should think about before heading out on the road:
Prepare Your Vehicle for Winter
Just like any other vehicle, your motorcycle should be serviced and in great condition at the beginning and throughout the winter months. It is a good idea to look into getting snow tires for your motorcycle because snow tires can give you the best traction possible in snowy or rainy weather. Also, a large windshield or heated hand grips can work wonders for making driving in the cold weather more comfortable.
Wear the Proper Gear
Every motorcyclist knows that proper gear is a necessity when it comes to riding at any time of the year. In colder months, you should wear thick, warm clothing and multiple layers for maximum protection from the elements. Long sleeves and long pants are a must, as thick gloves and boots with a decent amount of tread. Protective wear is not only used to protect yourself in the event of an accident, but also to protect yourself from the cold.
Pay Attention to the Road
Cold months equal cold tires which means you have less traction than normal. It is important to remember this when riding in cold weather because you will have to increase your stop time and following distance to make up for the loss in traction. It is also not a bad idea to slow down when on the roads.
Get in Touch with a Park Ridge Motorcycle Accident Lawyer
Driving in the winter can be dangerous for anyone, but for motorcyclists, it can be deadly. Even the most seasoned of motorcyclists can be victims of traffic accidents that can cause great bodily injuries. If you or a loved one has been in a motorcycle accident, you need the help of a Des Plaines motorcycle accident attorney who can represent your interests. Contact the Quinn Law Group, LLC to determine what compensation you are entitled to. Call our office today at 847-232-7180 to schedule a free consultation.
Sources:
https://ultimatemotorcycling.com/2013/11/14/seven-tips-winter-motorcycle-riding/
https://www.forbes.com/sites/joshmax/2016/01/27/how-to-ride-a-motorcycle-through-winter-5-tips/#3a75a4943f3b