Can You Get Compensation if the Driver Who Hit You Is Uninsured?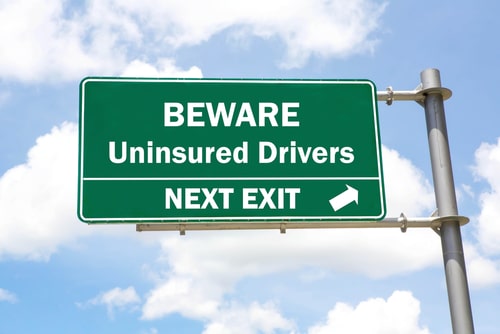 If you get into a car accident, you may expect the at-fault driver's insurance company to pay for your damages. But what do you do if you get into an accident with someone who does not carry auto insurance? In Illinois, drivers are required by law to carry car insurance. Unfortunately, not all drivers abide by this law. In fact, in 2019, 12.6 percent of drivers in the state were uninsured. If you were recently involved in a car accident caused by an uninsured motorist, you may wonder what your legal options are. It is important to discuss your case with a knowledgeable car accident lawyer promptly.
Taking Advantage of Uninsured Motorist Coverage
In Illinois, auto insurance companies are required to give you the option of purchasing uninsured motorist coverage. The coverage is intended to pay for any expenses and losses caused by injuries, as well as property damage that occurs in an accident caused by an uninsured motorist. To receive compensation for your losses, you will need to file a claim with your own insurance company.
Many car accident victims who find themselves in this position are often surprised to find that their own insurance company is not always eager to pay the claim and reimburse them for their economic and noneconomic losses. The insurance company may try to settle the case for far less than what the victim is actually entitled to or they may attempt to deny the claim completely. Insurance companies are in the business to make money and any time they have to pay out a claim - even to their own clients - this cuts into that profit.
If you have to file a claim for uninsured motorist coverage, it still may be in your best interest to hire an experienced car accident lawyer. If you have a skilled lawyer on your side, they will not let the insurance company take advantage of you. Your attorney will know how to negotiate a fair settlement and, if necessary, litigate your case to a jury in order to get the best possible outcome based on the circumstances of your case.
Additionally, a lawyer may help you pursue a lawsuit against the uninsured driver. First, your lawyer can perform an asset search on the person to determine if he or she has enough money to pay for your damages. If the person has sufficient assets to pay for your judgment, your lawyer will assist you in filing a timely lawsuit.
Contact a Park Ridge, IL Car Accident Lawyer
If you were injured in a vehicle accident caused by an uninsured motorist, you should get in touch with a skilled Glenview, IL car accident attorney. At the Quinn Law Group, LLC, we have extensive experience handling cases involving uninsured drivers and want to help you through this difficult process. We encourage you to call us at 847-232-7180 to schedule a free consultation.


Source:
https://www.iii.org/fact-statistic/facts-statistics-uninsured-motorists