Can I Receive Compensation for a Slip and Fall Accident?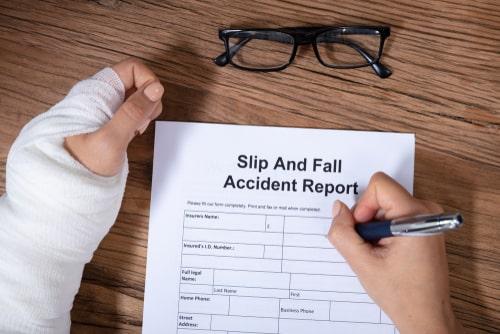 The Illinois Department of Public Health (DPH) reports that 841 people 65 years of age and older died because of falls during the most recent reporting year and more than 100,000 people had to be treated for injuries suffered because of falls. The United States Bureau of Labor Statistics (BLS) also reported that nearly 20 percent of fatal occupational injuries were the results of falls, slips, or trips.
Slip and fall accidents can lead to serious injuries, including brain and spine injuries. Any person who does sustain a severe injury in a slip and fall accident will want to be sure they retain legal counsel because insurance companies are rarely willing to pay victims appropriate compensation without a fight.
How Slip and Fall Cases Work
When a person suffers injuries in a slip and fall accident, they should immediately report their fall to whoever is in charge of the property they fell on, such a manager at a store. Victims should also be quick to seek medical attention so they can be sure their injuries are properly treated and they have a medical record created as soon as possible. An individual harmed in a slip and fall accident can also strengthen their case by immediately taking pictures of whatever caused the fall before a property owner has the chance to correct the condition and the evidence disappears.
When property owners are aware of hazardous conditions on their property, they must make an effort to either warn their guests about the danger or take active steps to correct it. Property owners who fail to do this can be held liable for damages resulting from accidents on their property.
Contact a Des Plaines Slip and Fall Lawyer
If you suffered serious injuries or your loved one was killed in a slip and fall accident in Illinois, you are going to want to make sure you have the help of an experienced Park Ridge slip and fall accident attorney. Attorney Patrick Quinn handles all kinds of slip and fall cases, including those that involved bad lighting, missing handrails, wet floors, and uneven surfaces.
Our firm can immediately commence an independent investigation into your accident and will work to make sure that you can hold the negligent party accountable. Call 847-232-7180 or contact our Des Plaines slip and fall accident lawyer online for a free consultation.
Sources:
https://dph.illinois.gov/content/dam/soi/en/web/idph/files/publications/publications-ohpm-older-adult-falls-100217.pdf
https://www.bls.gov/regions/midwest/news-release/fatalworkinjuries_illinois.htm