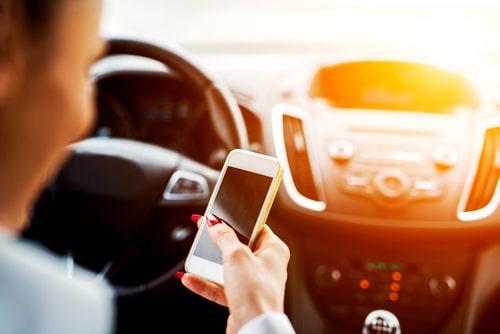 April is National Distracted Driving Awareness Month. National campaigns aimed at reducing the number of distracted driving incidents have recognized the seriousness of the issue. Distracted driving is defined as engaging in other activities that take the driver's attention away from the road. This type of behavior behind the wheel has been shown to compromise the safety of the driver, passengers, pedestrians, as well as other motorists. According to the Illinois State Police, driver inattention is a factor in over one million car accidents in the United States each year.
Types of Distraction
There are three main types of distraction when it comes to driving:
Visual: Driver takes his or her eyes off the road
Manual: Driver takes his or her hands off the wheel
Cognitive: Driver takes his or her mind off of driving
Studies by the Centers for Disease Control and Prevention (CDC) show that when traveling at 55 mph, reading or sending a text message takes your eyes off the road for approximately five seconds, which is long enough for a car to cover the length of a football field. In these situations, it greatly reduces the driver's stopping distance in the event the driver in front suddenly slows down or comes to a complete stop.
...