Who Is Liable in a Rear-End Pileup Accident?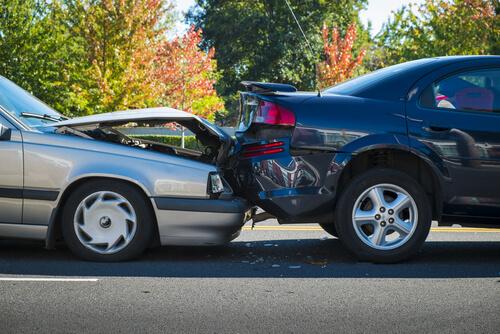 Whether you are running errands or driving around enjoying the sights, if you are rear-ended, it may feel like getting the wind knocked out of you because you do not see it coming. Rear-end collisions are the most common type of car accident in the United States, occurring in about 29 percent of all crashes. We see it all too often on Illinois freeways such as I-294 or I-90 when drivers do not slow down in time and, in some cases, these crashes lead to a pileup accident. If you are in the middle of one, you may be left wondering: Who is liable for the damage if you hit the car in front of you?
Rear-End Crash and Liability
A variety of things cause rear-end collisions every year, including people following too closely, distracted driving, and speeding. In Illinois, drivers are supposed to keep enough distance between their car and the car in front of them to avoid a crash. Therefore, in most rear-end car crashes, the rear driver is liable. In cases in which the front driver cuts off the rear driver or slams on the brakes without warning, the rear driver may not be liable.
Illinois law allows someone involved in a car accident to pursue financial compensation for their damages. In such cases, the at-fault driver or their insurance provider may be required to pay for vehicle damage, medical bills, and other damages they caused.
Shared Fault in a Multi-Car Crash
If you have been in a crash involving multiple vehicles it can be difficult to discern exactly who caused the accident. Sometimes, multiple parties share fault for the crash. The state of Illinois utilizes what is called "modified comparative negligence," which basically takes into account a person's percentage of the fault for an accident. Therefore, even if the injured person is partially to blame for an accident they may still be able to recover damages if they are less than 50 percent at fault. In such cases, the amount of damages a person receives is reduced by their share of fault. A thorough investigation will likely be required to determine how much fault, if any, each party in the accident shares.
Contact a Des Plaines Rear-End Car Accident Lawyer
Quinn Law Group, LLC provides dependable legal support to anyone involved in a rear-end car accident. If you have been injured in a multi-car crash, you need a skilled Park Ridge rear-end car accident lawyer who will investigate the circumstances of the crash and fight to get you as much compensation as possible. Call 847-232-7180 for a free consultation.
Sources:
https://www.ilga.gov/legislation/ilcs/fulltext.asp?DocName=073500050K2-1116
https://driving-tests.org/driving-statistics/