Who Can I Sue If Was Injured in a Truck Accident?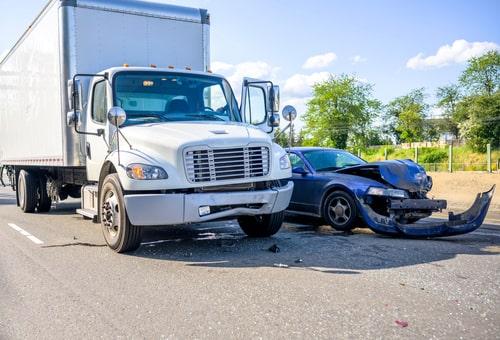 If you have been injured in a truck accident in the Chicago area, the medical bills may be piling up, you have lost your stable income, and are trying to recover from severe injuries. According to federal estimates, some 107,000 truck accidents resulted in life-altering injuries in 2020. Truck accidents are among the most dangerous vehicle accidents. Semi-trucks are simply heavier and more difficult to handle than your average car. So who is liable for the injuries that you suffered?
Potentially Liable Parties in a Truck Accident
In many cases, truck accidents are caused by a negligent driver due to various factors including driver fatigue, drunk driving, improperly secured loads, and defective truck parts. These are some of the potential parties you may be able to sue following a truck accident depending on the cause of the accident:
Truck Driver – If the driver was speeding, driving drunk, or being negligent in any way and caused the accident, you could sue the driver for your losses.
Trucking Company – The employer is supposed to properly train drivers to ensure that commercial trucks are operated safely. This includes regular maintenance and inspection of the company trucks.
Cargo Loading Companies – If the truck driver is transporting merchandise for another company, the loaders share responsibility for checking that the cargo is properly secured or that the truck is not overloaded.
Parts Manufacturers – Steering problems, tire blowouts, or brake failures could be the result of defective parts in which case the manufacturer or distributor may be liable.
Other Parties – The county, state, and national authorities responsible for road maintenance and the implementation of trucking regulations could also be held liable.
Determining Liability
Truck accidents require a full investigation into what led to the accident to determine if the injuries caused were due to the negligence of one or more parties. Modified comparative laws in Illinois dictate how responsibility for an accident is shared. They allow individuals to recover compensation for their losses even if they are partially responsible for the accident. If you are found to be 20 percent at fault for the accident, you will recover 80 percent of the damages. As long as you are not more than 50 percent at fault, you can still collect damages.
Determining liability in truck accidents involves dealing with multiple people and insurers as well as understanding the circumstances of the accident. A personal injury lawyer who has worked for insurance companies and understands how to ensure that negligent parties are held liable can help evaluate the specific facts of your case and determine liability.
Contact a Cook County Truck Accident Lawyer
If you are injured in a truck accident due to someone else's negligence, you deserve to receive compensation for your damages. At Quinn Law Group, LLC, we will fight to make sure you can achieve the financial security you need during this difficult time. A Park Ridge truck accident attorney will help you understand your rights and advise you of your best options. Call [phone]] for a free consultation.
Sources:
https://www.fmcsa.dot.gov/safety/data-and-statistics/large-truck-and-bus-crash-facts-2020
https://www2.illinois.gov/sites/Insurance/Consumers/ConsumerInsurance/Auto/Pages/comparative-negligence.aspx#