What Rights Do Nursing Home Residents Have?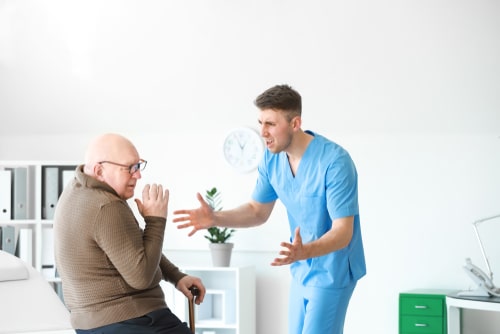 The Illinois Nursing Home Care Act spells out certain rights that all residents of skilled nursing facilities have. Many of these rights exist to protect a nursing home resident's safety, dignity, and property. It is very serious if a nursing home violates the rights of a resident as outlined in the Act. Nursing home abuse or neglect is a form of medical malpractice. If you suspect that your rights or the rights of your loved one are being violated by nursing home staff, you should consider contacting an attorney. You or your loved one may be entitled to financial compensation.
What Rights Are Included in the Illinois Nursing Home Care Act?
When you trust a nursing home to care for you or your aging family member only to have the facility ignore these legal rights, it can be an extremely upsetting or even dangerous situation. Every nursing home resident - and everyone who loves a nursing home resident - should familiarize themselves with what rights they have. Here are a few of the rights the State of Illinois sets out:
Financial Management - A nursing home cannot deny a resident access to their own finances and must get permission before spending any of a resident's money. If the nursing home is holding onto a resident's money for them, the home must provide a statement each quarter. If the resident has designated someone else, such as by power of attorney, to manage their finances, the nursing home cannot interfere.
Choice in Care - Many nursing home residents are nearing the natural ends of their lives. Every resident has the right to decide for themselves what types of care they would want. Do Not Resuscitate orders and healthcare powers of attorneys, as well as living wills, must be respected. As long as the resident had appropriate legal capacity to sign the document at the time it was made, a nursing home must honor the patient's wishes.
Freedom from Restraint - Unless it is necessary for the safety of the resident and ordered by a doctor, patients have the right to be free from both physical and chemical restraints.
Privacy and Dignity - Just because a person has moved into a nursing home does not mean they lose their right to privacy in their medical care. During a physical examination or discussion about the resident's health or course of treatment, no one but the care team may be present or included without the resident's permission.
Personal Property - Residents have the right to wear their own clothing and to keep and use their own personal belongings. Unless it is for safety reasons, staff cannot take away or remove a resident's personal items.
These are just a few examples of some of the rights Illinois has made a point of protecting for residents of nursing homes. If any situation in a nursing home concerns you, it may be best to consult an attorney.
Call a Park Ridge Nursing Home Injuries Attorney
If you believe that you or a loved one has had their rights violated in a nursing home, contact the Quinn Law Group, LLC. No one should suffer because of nursing home neglect or abuse. A Park Ridge medical malpractice lawyer may be able to recover compensation for you or your family member if a nursing home has violated these rights. Call 847-232-7180 for a free consultation.
Source:
https://www.ilga.gov/legislation/ilcs/ilcs5.asp?ActID=1225&ChapterID=21