Tips for Safe Autumn Driving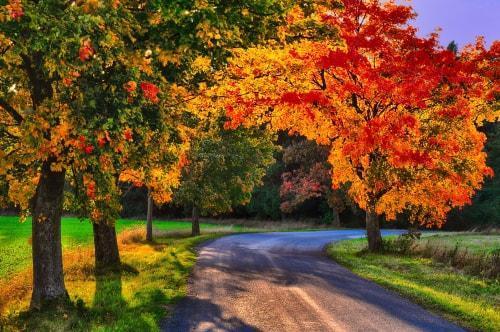 Fall is many people's favorite time of year - you get a break from the sweltering heat of summer, leaves are changing into brilliant autumnal colors and you get to look forward to holidays like Halloween and Thanksgiving. Unfortunately, in the midwest, fall also brings inclement weather, like rain and fog, which can make for dangerous driving situations. According to a study published by the National Highway Traffic Safety Administration (NHTSA), in car crashes related to roadway and atmospheric conditions, around 75 percent were related to dangerous roadway conditions. Here are four tips to keep you safe during your autumn road trips.
Watch Your Speed
Fall's infamous rainy weather can make for slick and slippery roads. You should be sure to increase the following distance between your vehicle and the vehicle in front of you in case you need to stop suddenly. If you can see water on the roadways, you are also at a higher risk of hydroplaning, which happens when your tires lose traction on a wet road. Make sure you are not speeding and you are going a safe speed for the conditions you are driving in, even if it is lower than the speed limit.
Keep Your Vehicle in Good Shape
Road conditions can vary in the fall and you cannot really control that. One of the things you can control is the condition of your vehicle. Make sure that your tires have a decent amount of tread left on them to help you keep traction on slippery roads. Periodically checking the air pressure in your tires is also a good idea because air pressure in your tires will drop with the temperatures. You should also check your windshield wipers to make sure they are streak-free and can clear your windshield effectively.
Keep an Eye Out for Deer
Many people underestimate the presence of deer in urban and suburban areas, but they can be cause for concern. Deer can become a problem in the fall because the fall marks the beginning of their mating and migrating season. Active deer can wander across roadways, such as at night when they are hard to spot. Always keep an eye out for deer or other critters that may be crossing the road.
Beware of Frost
In the fall - especially in late fall - daytime temperatures can be mild but nighttime temperatures tend to plummet. This can cause frost or ice to form on roads, making them dangerous to drive on in the mornings. If you wake up and can see condensation from your breath, there is a good chance that the roads will be a little slick.
Have You Been Injured in a Fall Car Accident? A Glenview Car Accident Lawyer Can Help
Fall can be an enjoyable time of year, but it can also be a dangerous time for drivers. If you have been injured in a car accident because of the negligence of another driver, you should contact a Park Ridge car accident attorney to help you build a case. At the Quinn Law Group, LLC we know how devastating and stressful car accidents can be, which is why we will do everything in our power to ensure you receive fair and rightful compensation. To schedule a consultation, call the office at 847-232-7180.
Sources:
http://www.safebee.com/travel/7-fall-driving-safety-tips
https://www.esurance.com/info/car/dangers-of-fall-driving
https://www.aarp.org/auto/info-2016/fall-driving-safety-tips.html
https://crashstats.nhtsa.dot.gov/Api/Public/ViewPublication/811059