Slip and Fall Accidents Can Cause Serious Injuries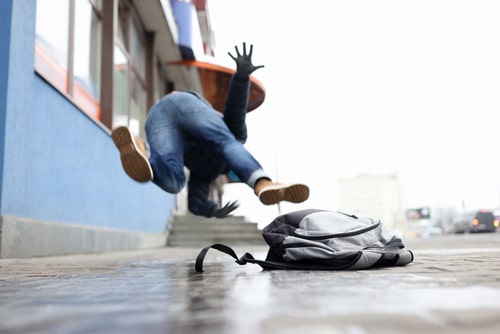 Most Americans have experienced a slip and fall before at some point in their lives. Most of the time, it is a minor event, and maybe it even happens on their own property. However, other slip and fall injuries are more serious and can occur on property that belongs to someone else. In the event that you have recently experienced a slip and fall resulting in injury, it is time to connect with an experienced Glenview slip and fall injury lawyer.
Causes of Slip and Fall Accidents
Slip and fall accidents can result from many different circumstances. Illinois has its fair share of winter weather, which can often cause slip and fall accidents. However, property owners are still responsible for ensuring their property is reasonably safe for visitors and customers. They should shovel driveways and treat sidewalks to prevent ice, clean up water accumulation in entryways, and plow parking lots.
A lack of property maintenance and repairs is another potential cause of slip and fall accidents. Sometimes, property owners ignore or do not take the time to fix or maintain their property as they should. Broken stairs or railings, torn carpet, or inadequate lighting can all lead to a slip and fall.
In addition, property owners and their employees have a duty to prevent and clean up substances that could make the floor slippery. For example, they need to clean up liquid and food spills as soon as possible. If they notice the spill or someone alerts them to it, they have a duty to either clean it up or warn those on the premises of it to avoid the area. If appropriate steps are not taken immediately to rectify the situation, the property owner or manager could be liable for what happens next.
Slip and Fall Injuries
Slip and fall incidents can lead to severe and sometimes even fatal injuries. Some of the resulting injuries can be just as severe as those sustained by car accident victims. These include:
Traumatic brain injuries (TBI) and concussions

Spinal cord injuries (SCI)

Broken bones

Soft tissue injuries such as sprains, strains, or whiplash

Internal injuries

Post-traumatic stress disorder (PTSD) and other mental health problems

Knee injuries

Back injuries
Many of these injuries take months or even years to recover from - if you ever fully recover at all. If you have any of these injuries after a slip and fall, make it a point to contact a skilled Glenview slip and fall injury lawyer as soon as possible.
Were You Injured in a Slip and Fall Accident? Count on the Compassionate Glenview, IL Slip and Fall Injury Attorney at Quinn Law Group
If you have suffered injuries in a slip and fall accident, you need a reputable Park Ridge injury attorney on your side. At Quinn Law Group, we are dedicated to standing up to insurance companies on behalf of victims and getting our clients the compensation they deserve. Contact Quinn Law Group, LLC online or by phone at 847-232-7180 today to schedule your no-obligation consultation to discuss your potential slip and fall claim.