Recovering Damages for PTSD Caused by Nursing Home Abuse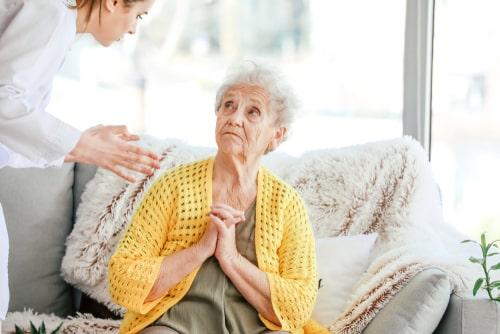 Posttraumatic stress disorder (PTSD) is a mental health condition that is typically triggered as a victim or a witness of a devastating event. Symptoms can range from flashbacks to nightmares, and even debilitating anxiety. Although many people who suffer from PTSD have been involved in vehicle accidents or are victims of violent crimes, long-term care or assisted living residents can also develop PTSD over time. Nursing home abuse and neglect can leave a lasting effect on a patient, even leading to suicidal thoughts in some cases. A personal injury attorney can determine liability and hold negligent parties accountable for mental injuries such as PTSD.
Holding Liable Parties Accountable for Mental Injuries
When your relative reaches a point where they cannot live on their own, you entrust medical professionals and staff members to take care of them. Sadly, this is not always the case. A few of the ways that staff members can cause a patient to suffer from PTSD include performing the following acts:
Hitting, striking, slapping
Sexual harassment
Sexual assault
Berating, demeaning, criticizing
Neglecting to provide adequate nutrition by withholding food or water
Failure to assist with basic hygiene care
Stealing money from a resident
Elder abuse is often underreported in long-term care facilities such as nursing homes. In some cases, abuse and neglect occur because workers are understaffed and overworked. In other instances, nursing homes may fail to properly vet staff members and hire someone without doing a criminal background check, resulting in employing someone who has a history of abuse charges or convictions against them.
If you suspect your family member has PTSD due to nursing home abuse or neglect, a skilled attorney can help you gather evidence of the negligent behavior, including eyewitness statements, photographs, security camera footage, and staff personnel's past criminal records. This evidence can prove liability and hold the nursing home responsible, negotiate a settlement, or take your case to trial if necessary to achieve a judgment in favor of your loved one.
Contact a Glenview Personal Injury Lawyer
Not all abuse results in physical injuries; it can also lead to psychological harm, including posttraumatic stress disorder and anxiety. Nursing home abuse and neglect can cause a patient to suffer from PTSD and other related conditions. At The Quinn Law Group, LLC, we are committed to helping you or your relative obtain fair compensation for your damages. Our experienced Park Ridge personal injury attorneys recognize the long-term psychological impact of abuse, and we are prepared to take on your case. To schedule a free consultation, call our office today at 847-232-7180.

Source:
https://www.ilga.gov/legislation/ilcs/ilcs3.asp?ActID=1222