Halloween Safety Tips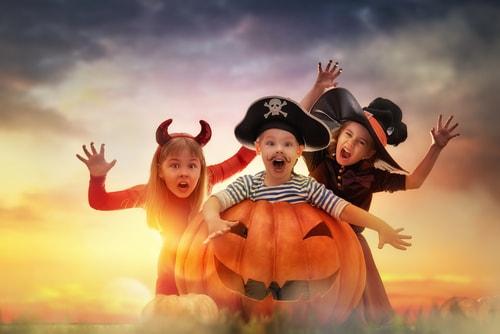 Halloween is a wickedly magical time of year for children to enjoy - but it is also a dangerous time of year. According to Safe Kids Worldwide, children are more than twice as likely to be hit and killed by a car on Halloween than any other day of the year. Trick-or-treating is a Halloween tradition that is enjoyed by children of all ages, but with an increase of pedestrians on the road and a decrease in daylight, it can make for deadly circumstances resulting in slip-and-fall accidents or car accidents. Fortunately, there are ways you can keep your children safe during this spooky season. Here are four tips to have a safe Halloween.
Choose a Safe Costume
Halloween is all about the costumes, whether your child is a sweet and sparkly fairy or a dark and mysterious witch. Help your children stay safe by choosing light-colored costumes when possible. Also, make sure the costume fits your child to help prevent any trips or falls from baggy fabric and make sure masks fit correctly so their vision is not obstructed.
Make Sure You Can Be Seen
The sun sets earlier in the fall, making it darker when it comes time to go trick-or-treating, which can make visibility difficult for drivers. Increasing you and your child's chances of being seen during trick-or-treating can help prevent accidents. Use reflective tape on costumes, carry reflective trick-or-treat bags or wear glow sticks as a fun and effective way to keep yourself visible.
Prepare Your House and Yard
Halloween will be a time where there is an increased number of people on your property. You have the responsibility to maintain your property to be safe and free of hazards that could cause injuries to others. Make sure your sidewalks and walkways are free of debris, like leaves that could make it slippery.
Be a Good Pedestrian
Trick-or-treating can become scary very quickly if you get into an accident with a vehicle. In order to keep yourself as safe as possible practice safe pedestrian habits, like crossing the street at designated crosswalks and using sidewalks when they are available. Try to be as predictable as possible - walk where drivers are expecting you to be.
Get in Touch with a Park Ridge Personal Injury Attorney
Trick-or-treating is a fun activity that is enjoyed by many, but it is also a dangerous one. Dimly lit streets and children in dark clothing can make for an unsafe situation, which is why you should always try to make sure you are being as safe as possible. If you or your child is injured on someone's property or by a negligent driver this Halloween, you need the help of a skilled Des Plaines personal injury attorney. The compassionate lawyers at the Quinn Law Group, LLC will be by your side through the entire process. Call the office at 847-232-7180 to schedule a consultation.
Sources:
https://www.nsc.org/home-safety/tools-resources/seasonal-safety/autumn/halloween
https://www.safekids.org/halloween
https://www.safekids.org/tip/halloween-safety-tips
https://www.aap.org/en-us/about-the-aap/aap-press-room/news-features-and-safety-tips/Pages/Halloween-Safety-Tips.aspx