Can I Seek Compensation if I Am Injured at an Illinois Restaurant?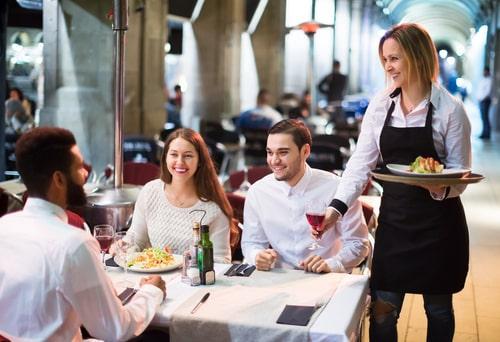 Many people dine out every day in the United States. According to statistics, on average, Americans eat out between four and five times a week. In many cases, it can be out of convenience to save time while juggling work and child-rearing commitments. In addition, families often gather together at their favorite eatery to celebrate a birthday or a holiday. However, a nice evening out can sometimes turn into a nightmare. Restaurant accidents may cause a patron to suffer minor to severe injuries, depending on the circumstances. For example, if a person slips and falls, he or she can sustain serious damage to a body part. There are other mishaps that can cause injury to restaurant-goers, and they are often caused by the negligence of the property owner. That is why it is imperative that an injured party consults with an experienced personal attorney regarding a premises liability claim.
What Kind of Injuries Can Occur at Restaurants?
Accidents at food establishments are more common than one might think. Tripping, slipping, and falling can result in significant bodily damage since a person can land on a hard surface such as pavement or tumble down a flight of stairs. In many cases, this is due to ice on a sidewalk/entrance or oil that was not cleared from a floor, making it slippery.
In other instances, a patron can suffer burns to the skin if he or she comes into contact with boiling water or a hot plate. If the wait staff is not properly trained, they run the risk of spilling a piping hot cup of coffee on someone.
Some of the typical injuries that a person can suffer in a restaurant accident include the following:
Broken/fractured bones
Sprains, muscle strains, or bruises
First-, second-, or third-degree burns
Cuts/lacerations
Traumatic brain injury (TBI)
Back/neck/spinal cord damage
Illinois Premises Liability Law
Property owners in the state of Illinois are required by law to provide a safe environment for their guests or visitors, regardless if it is a restaurant or a retail store. Under the Illinois Premises Liability Act, owners are responsible for a duty of reasonable care for patrons regarding the state of the premises. It is important to note that anyone who is trespassing is owed a lower standard of care since they break the law when they enter the premises without permission.
In certain situations, individuals or companies may be held liable for injuries if three factors can be proven:
The owner must have known of the condition or should have discovered the dangerous condition.
The visitor could not discover or realize the danger.
The owner failed to exercise reasonable care to protect the visitor from the danger.
If someone suffers an injury that could have been prevented by proper maintenance or posted signs about unsafe conditions, that visitor may be entitled to compensation. This can cover medical costs for surgery or physical therapy, and for lost wages if the victim is unable to work.
Contact a Glenview Personal Injury Lawyer
Eating at restaurants is a popular pastime for many people. However, accidents can even happen while enjoying a nice dinner out. If you or your loved one was hurt at an eating establishment in Illinois, it is important to seek professional legal counsel. Our compassionate Des Plaines premises liability attorneys understand how a simple night out can result in a serious injury after slipping and falling. We have a firm grasp of determining premises liability in personal injury claims. Call our office today at 847-232-7180 to schedule your free consultation.
Sources:
https://www.thesimpledollar.com/save-money/dont-eat-out-as-often/
http://www.ilga.gov/legislation/ilcs/ilcs3.asp?ActID=2048&ChapterID=57