Can I Recover Damages if I Slipped on Snow or Ice in Illinois?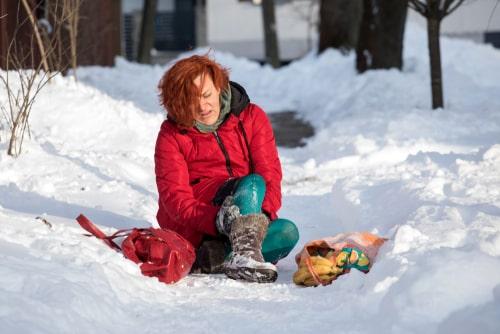 Wintertime can be fun for fans of winter sports, such as skiing, ice skating, and sledding. However, these sports are not without their risks. In Illinois, the temperatures can be extreme, including sub-zero days. Blizzard-like conditions may also bring heavy snow, sleet, and ice. Even just walking outside can be hazardous under some circumstances. When precipitation freezes, it creates slippery surfaces on pavement, wooden stairs, or decks. These areas can include private homes or public places such as restaurants, office buildings, or stores. If patrons, guests, or visitors slip and fall on slick walkways, they can sustain serious to life-threatening injuries. If you were hurt in this way, an experienced attorney can help you hold a negligent property owner or manager accountable.
Significant Injuries
Trying to walk in deep snow can be difficult, causing pedestrians to lose their balance. In addition, walking on ice may make a person slip and fall, landing on a hard surface. The sudden force of the impact can lead to debilitating consequences, requiring hospitalization, surgery, rehabilitation, or assistive care.
A few of the most severe injuries from falling on ice or snow include:
Concussion
Broken bones
Fractures
Bruises/contusions
Sprains/strains
Dislocations
Spinal cord damage/paralysis
Proving Negligence
Under the Illinois Premises Liability Act, property owners or operators in Illinois have a duty of care to maintain a safe environment for any individuals who visit their grounds. This means they bear certain responsibility if someone suffers an injury on their premises directly caused by their reckless or negligent actions. In the winter months, snow can accumulate as well as ice and slush, obstructing common areas.
Not clearing or shoveling sidewalks or parking lots of snow or not putting salt or sand down to enhance the traction for anyone walking can create a significant hazard. Similarly, ice can form in potholes or due to improper drainage on gutters that would not have formed if the property owner had fixed them prior to a snowfall. Failure to post signs warning guests of slippery pavement or even ice falling from roof overhangs can be considered negligence, too. When there is an "unnatural accumulation" of snow on roofs or porches, it can cause the structures to collapse and harm anyone on or near them.
Contact a Des Plaines Personal Injury Attorney
The winters in Illinois are known for being harsh, with frigid temps that cause icy conditions. If you or someone you know suffered an injury after falling, another party may be found responsible if it was on their property. An accomplished Glenview premises liability lawyer knows how to determine liability. Attorney Patrick Quinn has more than 15 years of experience helping personal injury victims secure compensation for their damages. Call Quinn Law Group, LLC today at 847-232-7180 to schedule your free consultation.
Sources:
https://www.ilga.gov/legislation/ilcs/fulltext.asp?DocName=062500050K11-401
https://www.ilga.gov/legislation/ilcs/fulltext.asp?DocName=062500050K11-501.6
https://www.topdriver.com/education-blog/2020-illinois-car-crash-statistics/
https://www.ilga.gov/legislation/ilcs/ilcs3.asp?ActID=2048