Are Slip-and-Fall Accidents More Common in the Winter?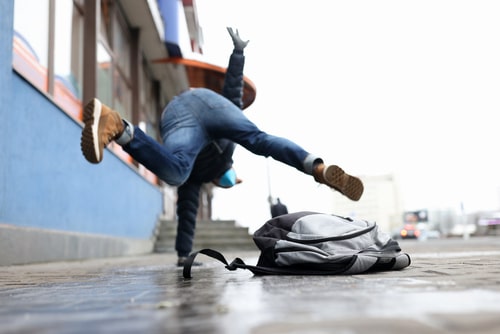 Anyone who lives in the Midwest knows how brutal the winters can be. Illinois residents in particular have likely experienced blizzards that dumped several feet of snow in relatively short periods of time. Along with snow comes wind, ice, slush, and sleet during the winter months. Although tripping or slipping and falling outside can occur at any time, the likelihood of this type of accident is usually higher in bad weather. Just as it can be dangerous driving during a snowstorm, walking outdoors can pose its own risks, too. However, Mother Nature may not be the only one to blame. In some cases, any injuries suffered may be due to the negligence of a property owner.
Cold-Weather Maintenance
Inclement weather can wreak havoc on road pavement. That is why the Illinois Department of Transportation (IDOT) sends fleets of snowplows out during snowy days and nights. Clearing streets is crucial to prevent cars from sliding and drivers losing control and colliding with other vehicles or even pedestrians. Likewise, it is imperative that property owners take the necessary precautions during the winter months in order to keep their guests or visitors safe. This may include plowing parking lots, shoveling sidewalks, putting salt down on icy walkways, and more. If they do not perform this type of maintenance, they may be held liable for any injuries suffered on their grounds.
Another safety and security measure that all building managers or property owners should take is replacing any broken or burnt-out lightbulbs that illuminate their grounds. Since it gets darker earlier in the winter, it can be difficult for patrons to see where they are going, causing them to slip on ice or fall in a pothole. Additionally, burst pipes can cause a flood, resulting in frozen water throughout a public area where people might be walking. Falls on icy concrete can range from minor bumps and bruises to severe head trauma and broken bones.
Premises Liability
In order to recover damages in an Illinois slip and fall lawsuit, victims typically must show:
A condition on the property existed and posed an unreasonable risk or danger to guests.
The property owner knew or should have known of the hazardous condition and subsequent risk of injury.
Visitors could not have discovered the hazard to protect against the danger.
The property owner failed to protect patrons by fixing the hazard or posting a clear warning about it.
As a direct result of the property owner's negligence, an individual suffered injuries.
It is important to note that under Illinois law, a slip and fall lawsuit must be filed within two years after the date of the accident. If a victim fails to adhere to this statute of limitations, he or she could be prohibited from filing a claim and receiving compensation. An experienced personal injury attorney can help you gather evidence such as security camera footage, building code violations, or eyewitness testimony to prove that you were hurt on someone else's premises.
Contact a Park Ridge Personal Injury Lawyer
Slipping and falling may not seem like a big deal, but it can actually result in serious and life-altering injuries. Quinn Law Group, LLC know that some accidents are caused by reckless or negligent parties. With his more than 15 years of experience, Attorney Quinn assists accident victims to pursue compensation for their pain and suffering. That is why it is essential that you speak to our accomplished Des Plaines slip-and-fall accident attorney to understand your rights as a victim. Call our office today at 847-232-7180 to schedule a complimentary consultation.

Sources:
https://www.ilga.gov/legislation/ilcs/fulltext.asp?DocName=073500050K2-1116