Am I at Fault if You Slip and Fall on My Snowy Sidewalk?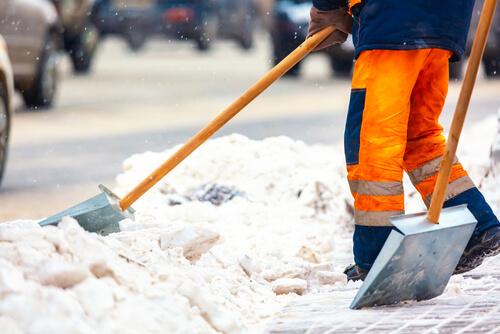 Snowfall puts us a little closer to the holiday season. The colder weather also makes it tempting to stay indoors and forget about shoveling the snow. You may opt to have packages and food dropped off at your front door so you never have to leave home. But what if the delivery folks take a tumble and fall? Falling on a patch of snow or ice can be painful and dangerous. Who is liable if they, or a guest on your property, slip and fall because you failed to remove the snow?
Natural Accumulation of Snow
Under state law, no one is required to remove snow from their private property. People are encouraged to remove the snow but it is not mandated under the law. Since you are not required to do anything with the snow that naturally accumulated on your sidewalk as the homeowner you are protected from liability. The law only makes a homeowner liable for any personal injuries if they remove snow or ice from sidewalks in a manner that would intentionally harm another person.
Unnatural Snowfall Creates Liability
To have an actionable claim against a property owner you must show that the property owner aggravated a natural condition or that the snowfall was not natural. If the property owner intentionally pours water on the sidewalk so that it freezes, the owner would be responsible for injuries.
If a snow removal company piles up the snow against your building and it melts, creating puddles in a parking lot that freeze overnight, that would create an unnatural accumulation of ice. In this case, you could be liable for injuries caused to a visitor or passerby. These can be complex cases and it would behoove you to consult with an experienced slip-and-fall attorney. Making these legal matters even trickier is that what may be true under state law is not necessarily the case at the local level.
Local Exceptions about Snow Clearing
Cities and towns have their own rules when it comes to ice and snow. Chicago, for example, can fine homeowners and business owners if they fail to shovel their sidewalks. The municipal code includes driveways, parking spots, steps, and ramps. These areas should be cleared within 24 hours after it snows to ensure safe access for people and vehicles. Even if you are the tenant of a property, you may also be responsible for shoveling the snow. Some municipalities may be responsible for snow or ice removal.
Contact a Des Plaines Premises Liability Lawyer
A slip and fall on the snow can lead to serious injuries. If you have suffered a slip and fall accident due to someone else's negligence, contact a Park Ridge premises liability attorney. At Quinn Law Group, LLC we will seek compensation for the damages you suffered. Call 847-232-7180 for a free consultation.
Sources:
https://ilga.gov/legislation/ilcs/ilcs3.asp?ActID=2084&ChapterID=58
https://www.chicago.gov/content/dam/city/depts/cdot/pedestrian/sidewalksnowremoval/SnowBrochure2020.pdf
https://www.chicago.gov/city/en/depts/cdot/supp_info/sidewalk_snow_removal.html